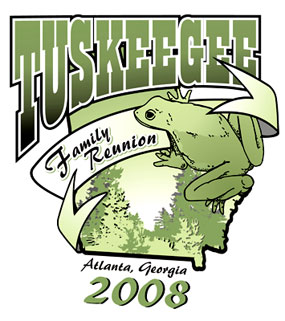 The Green Tree Frog became Georgia's State Amphibian during the 2005 legislative session, making it one of the newest state symbols.
Tuskeegee 2008 Template-
This is 3 color print designed for White or Ash Grey T-Shirts...
The design was printed with Black, Moon Green and Olive Green.
This Design Works well with other States, but the colors are not very suitable to change, however we can drop this to a 2 color design to use with our 2 Color T-Shirt Special. And as with all of our Family Reunion Template Designs, Our Artists can add or remove text to suit your needs.
144 White T-Shirts with this 3 color logo as shown = $4.00 each, Including Set Ups. 2x & 3x Shirts add $2.00 each.