Pitts 2011 Family Reunion Template-
Shown is a 3 Color Concept Print Designed for Light Colored T-Shirts, in this case a Natural or Sand Shirt.
As shown this Image is Black, Medium Light Grey and White. All three colors mix to Make a Darker Shades of Grey simulating additional shades of Grey.
The Colors and Text are Customizable to Suit Your Needs, However it will change the way the design l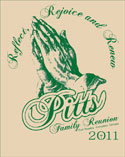 ooks after printing.