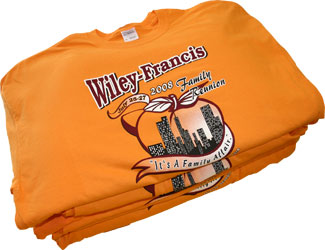 With all of the t-shirt printers out there on the web, you're probably wondering who you can trust to print your Family Reunion T-Shirts.If you need Custom Printed T-Shirts for Your Family Reunion, You have certainly come to the right place. FamilyReunionStuff.com Specializes in Family Reunion T-Shirts. We have dozens of family reunion templates for your reunion t-shirts.

We've spent hours researching Family Reunion T-Shirt Designs and while these a few really good ones out there, they simply arent very customizable, and those cheesy onlinie design labs which are very limited as to what you the user can do. You practically have to be a professional artist to make any design created in them look decent, which is why we've created FRS Templates (TM) and
we would like to give you a few great reasons to let us here at Family Reunion Stuff print your your apparel.

We Offer Our Clients Colorful, Well Designed Family Reunion T-Shirt Templates
We Offer Our Clients FREE Shipping on All *Pre-Paid Orders.
We Give Every Client Unsurpassed Printing & Design.
We have Exceptional Service and The icing on the Cake is..
We will Save You A Lot of Time & Money!!!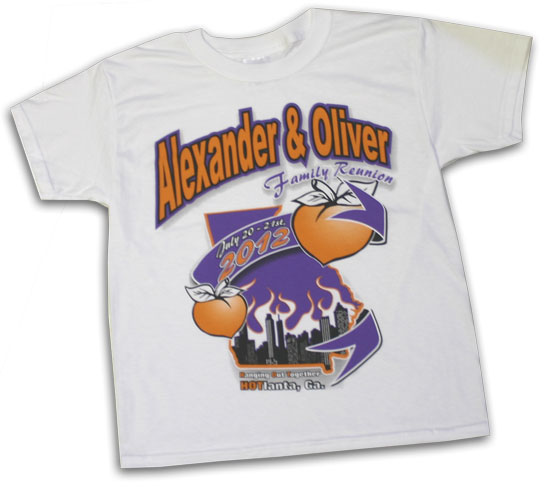 We know you want your Family Gathering to be the Best Ever, and we want to help you with that endeavor by making sure your Family Reunion T-Shirts are a Hit with Everybody at your reunion. To use one of our Templates all you need to do is.Just choose which design or designs youd like to mix and match, provide us with your details such as Reunion Name and Dates and then sit back and let our Professional Artists take care of the rest.
If you dont see what your looking for or have an idea for a New Template, please let us know. We're always adding new templates and sometimes we get so busy we dont have time to post them online.
Give us a call us at 770-489-2213 for more information.... or E-mail Us